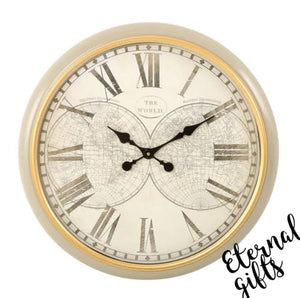 Eternal Elphin
World Clock- Mindy Brownes Interiors
Regular price
€99,95
€0,00
Unit price
per
Tax included.
This beautiful large clock from Mindy Brownes Interiors will bring Statement to any House. 
This clock can be for those whom love to travel or have wanderlust in their veins with the fabulous world map on its face, OR for those with classical taste, with it's beautiful ornate style and roman numerals.
The edging of this clock is in gold & "beige/grey/sage"- a quite unidentifiable colour, and seems to have  a "cameleon" effect, depending on its surroundings. It fits very well in with many colour schemes,  it aligns itself beautifully with grey, sage, olive green ,cream, white & beige surroundings and almost becomes the colour to suit it's surroundings, so in many words we can see ,it is a very versatile clock for any interior.
Dimensions: W 63cm, H 63cm (Diameter 63cm), D 63cm
---