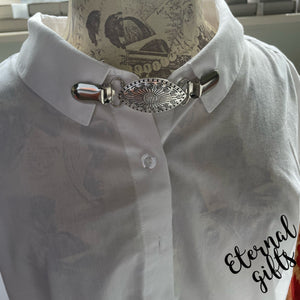 Eternal Elphin
The Shield Cardigan / Collar Clip
Regular price
€15,00
€0,00
Unit price
per
Tax included.
The Cardigan Clip was originally used to pin your cardigan together when you wore it around your shoulder.
They're back and they're more beautiful than ever before. This elegant combination of sparkle and practicality adds an extra hint of glamour to your everyday looks. Perfect or the workplace or simply for those days when you want to make the effort, cardigan clips are the understated jewellery accessories you never knew you needed, until now. 
Simply clip each end of your cardigan clip to either side of your cardigan collar, shirt collar or lapels and admire the sophisticated yet subtle effect it creates while keeping your cardigan perfectly in place or your lapels showing your individuality.
---