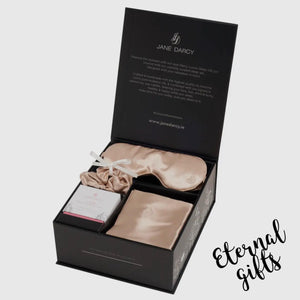 Eternal Elphin
Luxury Silk Sleep Set, Champagne, French Lavender & Lovage -Just Me By Jane Darcy
Regular price
€155,00
€0,00
Unit price
per
Tax included.
Treasure the moment with the Jane Darcy Luxury Sleep Gift Set (Pillowcase, Eyemask, Scrunchy & Candle ) in their stunning Champagne tone. Unwind with their carefully curated sleep set, designed with your relaxation in mind. Crafted & handmade with the highest quality 22 momme 100% pure mulberry silk, & combined with their signature natural soy wax candle 'Just Me'
Just Me....Lose yourself in the seductive natural aroma of French lavender and lovage. A real classic. Tranquil and calming, this harmonious aroma envelopes your environment and evokes a sense of relaxation. This pure and simple formula has been expertly blended to encourage you to be present, to create a 'just me' moment. A moment for you to slow down, unwind and restore the harmony in your life.
Each Jane Darcy Set is  presented in a luxurious gift box.

Their beautiful range of candles are 100% natural soy wax and boast 10% parfum. They use lead free cotton wicks and  do not use any petrochemical paraffin, mineral wax or harsh preservatives.
 Keep your face, hair, mind & body, healthy & happy while you sleep. Make time for you today…sure you deserve it
---